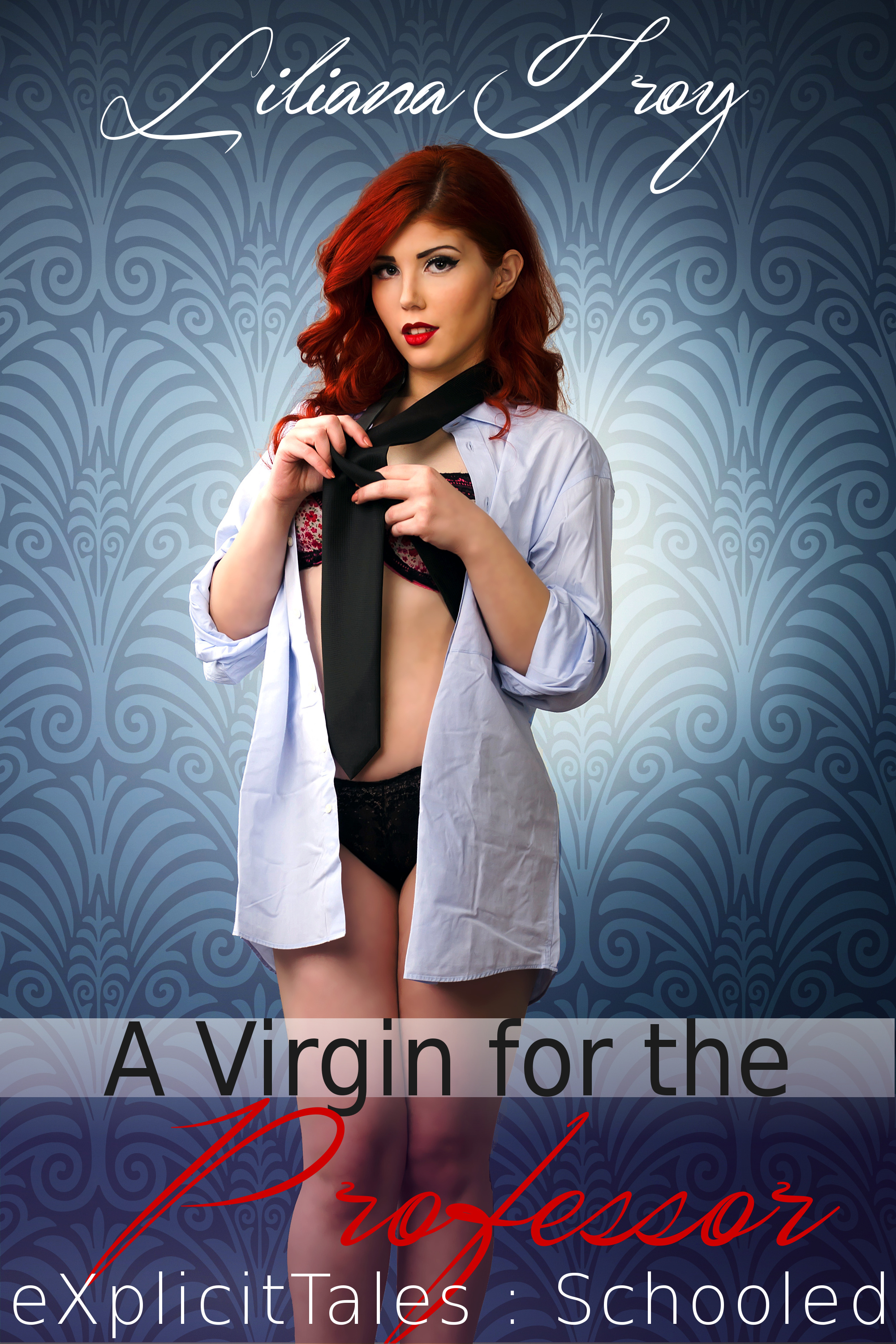 When shy geek Matthew approaches Professor Liliana Troy for the first time for some extra study material, she picks up on a more intimate subtext in his words: he's inexperienced in the ways of love. A Virgin. She's always liked the idea of a blank canvas, so she'll teach him about a lot else than the impressionist movement.
About the Book
Keywords: First time, student/teacher erotica
Other Books in "Schooled"
Warning
: SimpleXMLElement::__construct(): Entity: line 1: parser error : Space required after the Public Identifier in
/home/loreleim/public_html/explicittales/wp-content/plugins/mybooktable-dev2/includes/professional2/professional2.php
on line
413
Warning
: SimpleXMLElement::__construct(): <!DOCTYPE HTML PUBLIC "-//IETF//DTD HTML 2.0//EN"> in
/home/loreleim/public_html/explicittales/wp-content/plugins/mybooktable-dev2/includes/professional2/professional2.php
on line
413
Warning
: SimpleXMLElement::__construct(): ^ in
/home/loreleim/public_html/explicittales/wp-content/plugins/mybooktable-dev2/includes/professional2/professional2.php
on line
413
Warning
: SimpleXMLElement::__construct(): Entity: line 1: parser error : SystemLiteral " or ' expected in
/home/loreleim/public_html/explicittales/wp-content/plugins/mybooktable-dev2/includes/professional2/professional2.php
on line
413
Warning
: SimpleXMLElement::__construct(): <!DOCTYPE HTML PUBLIC "-//IETF//DTD HTML 2.0//EN"> in
/home/loreleim/public_html/explicittales/wp-content/plugins/mybooktable-dev2/includes/professional2/professional2.php
on line
413
Warning
: SimpleXMLElement::__construct(): ^ in
/home/loreleim/public_html/explicittales/wp-content/plugins/mybooktable-dev2/includes/professional2/professional2.php
on line
413
Warning
: SimpleXMLElement::__construct(): Entity: line 1: parser error : SYSTEM or PUBLIC, the URI is missing in
/home/loreleim/public_html/explicittales/wp-content/plugins/mybooktable-dev2/includes/professional2/professional2.php
on line
413
Warning
: SimpleXMLElement::__construct(): <!DOCTYPE HTML PUBLIC "-//IETF//DTD HTML 2.0//EN"> in
/home/loreleim/public_html/explicittales/wp-content/plugins/mybooktable-dev2/includes/professional2/professional2.php
on line
413
Warning
: SimpleXMLElement::__construct(): ^ in
/home/loreleim/public_html/explicittales/wp-content/plugins/mybooktable-dev2/includes/professional2/professional2.php
on line
413
Fatal error
: Uncaught Exception: String could not be parsed as XML in /home/loreleim/public_html/explicittales/wp-content/plugins/mybooktable-dev2/includes/professional2/professional2.php:413 Stack trace: #0 /home/loreleim/public_html/explicittales/wp-content/plugins/mybooktable-dev2/includes/professional2/professional2.php(413): SimpleXMLElement->__construct('<!DOCTYPE HTML ...') #1 /home/loreleim/public_html/explicittales/wp-content/plugins/mybooktable/includes/templates.php(1096): mbtpro2_get_amazon_reviews() #2 /home/loreleim/public_html/explicittales/wp-content/plugins/mybooktable/includes/templates.php(1443): mbt_get_reviews(279) #3 /home/loreleim/public_html/explicittales/wp-content/plugins/mybooktable/includes/templates.php(605): mbt_do_standard_reviews_section() #4 /home/loreleim/public_html/explicittales/wp-content/plugins/mybooktable/templates/single-book-storefront/content.php(4): mbt_do_book_content_sections('storefront') #5 /home/loreleim/public_html/explicittales/wp-content/plugins/mybooktable/includes/temp in
/home/loreleim/public_html/explicittales/wp-content/plugins/mybooktable-dev2/includes/professional2/professional2.php
on line
413