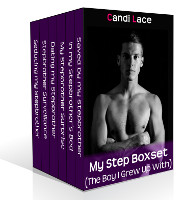 About the Book
Overview
Save $$$ with this 6-in-1 collection of titillating romantic short stories, each featuring a new couple in the process of discovery what it's like to find taboo first-time love under your own roof.
Saved by my Stepbrother
Eighteen year old Milly has always wanted to be someone she's not: prettier, skinnier, more popular… When shortly after Graduation, members of the in-crowd invite her to a barbecue at the local beach, she feels she'll finally be accepted. Only things don't turn out that way and it was all a big, humiliating joke. Just when things seem hopeless, her protector, the boy she grew up, with turns up and saves her from the bullies. He reassures her she's not as ugly and unwanted as they made her feel, in ways she could have never imagined. When he makes her his, without protection in his truck, she realises that her very first time is going to be the beginning of a whole new era…
In my Stepbrother's Bed
When I woke up in the wrong bedroom in my house, the morning after a rather wild and booze-filled Graduation party, I had many questions I didn't yet know the answer to.
How did I end up in the room that belongs to the boy I grew up with?
Why was I naked?
And finally, whose arm was draped across my chest?
Had I finally lost my V-card?
As I tried my best to remember, things slowly started to get back to me. The party had been a success, at first, but then things had gone downhill. First I realised that not every guy who sweet talks you in private has the guts to admit liking the fat chick in class in front of their stupid friends. Right after I witnessed my best friend finally making a move on the one guy I actually had a thing for, even though I did grow up with him… In short, it was all a disaster. Or was it?
My Stepbrother Surprise
When Jenny's best friend Sally convinced her to join her at a beach party to celebrate their High School Graduation, she didn't expect things to get as crazy as they did. She never thought she'd muster the courage to enter the infamous 'Kissing Shack' where random strangers make out in the dark, especially since she'd never been kissed before. By the time she left the shack, she definitely didn't expect to come face-to-face with the one person in the world she shouldn't have been kissing passionately inside that room: the boy she grew up with, Darren.
Feeling humiliated and confused, there was only one thing left to do: run. But Darren had other ideas, leading to yet another first experience for Jenny, hard and without protection.
Dating my Stepbrother
Tonight is the night! I get to go on my first ever date. Sure, Daniel, whom I've been in school with since forever had to wait until after graduation to finally grow a pair and ask me out, but better late than never! We're going to the movies, and dinner after. I wonder, will my date also lead to my first kiss?
By the time I'm all dressed up and ready, I decide to wait on the sofa next to Jack who is watching the game. The clock soon strikes seven, but Daniel is nowhere to be found… Soon my doubts begin to take over and I wonder if it was all a cruel joke? Is he going to show up at all?
After starting on such a high note, my hopes for the evening are in tatters. Nothing could possibly console me, except perhaps a confession about how he really feels about me by the boy I grew up with.
Step Surveillance
Liam, the boy I grew up with, is getting ready and I'm well prepared and in position with my iPhone outside the bathroom window. He is completely unaware, having a shave topless in front of the mirror, before taking all his clothes off his godlike body, ready for the shower, and I'm getting more and more excited. This will make a wonderful addition to my collection. And soon, in the privacy of my bedroom, I'll let it fuel many a forbidden fantasy…
I can only hope this arrangement keeps working out for me and I don't get caught, after all, it's the only thing close to a sex life I have…
Seducing my Stepbrother
When I invited Holly to join me on a visit home from college, I should have expected her to take a liking to the boy I grew up with, Bradley. What I didn't expect was that she guessed I liked him too. In fact he's the first and only guy I ever liked. It was wrong, I knew that, but she encouraged me to at least find out if the feeling was mutual. She developed a cunning plan to find out, without risking embarrassment in case he wasn't interested.
Turns out, I couldn't have guessed just how interested he would be.
Other Books in "eXplicitTales Boxsets"
Disclosure of Material Connection: Some of the links in the page above are \"affiliate links.\" This means if you click on the link and purchase the item, I will receive an affiliate commission. I am disclosing this in accordance with the Federal Trade Commission\'s
16 CFR, Part 255
: \"Guides Concerning the Use of Endorsements and Testimonials in Advertising.\"