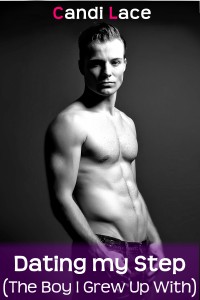 Out Now!
Tonight is the night! I get to go on my first ever date. Sure, Daniel, whom I've been in school with since forever had to wait until after graduation to finally grow a pair and ask me out, but better late than never! We're going to the movies, and dinner after. I wonder, will my date also lead to my first kiss?
By the time I'm all dressed up and ready, I decide to wait on the sofa next to Jack who is watching the game. The clock soon strikes seven, but Daniel is nowhere to be found… Soon my doubts begin to take over and I wonder if it was all a cruel joke? Is he going to show up at all?
After starting on such a high note, my hopes for the evening are in tatters. Nothing could possibly console me, except perhaps a confession about how he really feels about me by the boy I grew up with.
BUY NOW: Amazon | Barnes & Noble | Smashwords | Excitica
Keywords: First time, stepbrother/stepsister taboo erotica, bbw
Sample:
It has taken me about three hours to put together the perfect outfit.
My dress is fitting on top to accentuate my large chest, but flowy at the bottom, skimming over my curves, as they would say on every make-over show on TV. Together with those sandals that I simply had to have in the sales last month, I look a million bucks. Hopefully Daniel would like what he saw too.
I couldn't believe when he asked me out, last week at the mall. When he approached me, I wasn't even certain at first that he would know my name despite being in the same grade since forever.
Throughout High School I'd felt invisible, so I assumed nobody had noticed me, at least not for the right reasons. Thinking back to that moment when he asked if I'd wanted to go to the movies with him, maybe dinner after, I can't wipe the smile off my face. That's when everything had changed.
Too bad this only happened after Graduation, so the old pecking order that had prevailed at school didn't matter so much anymore. But I'm not one to nitpick over a good thing.
I have a date – my first ever date – and I cannot wait!
Daniel wasn't the most popular guy in school, but he wasn't a social outcast like me either. He was an average student, quite handsome, and had a respectable number of friends, unlike me.
I don't know what made him show interest in me.
And why now?
Anyway, who cares. I check myself out in the mirror again, before applying a bit of peach lipstick, to match the shade of my dress. Understated, that's what I'm going for. Understated and classy.
After brushing my hair a few times, I decide to keep it open.
And then I wait.
He's supposed to pick me up at seven, so we can catch the show at eight. No idea what movie he wants to see, but actually I don't care. I'm not that hard to please, most types of movies are just fine by me.
I decide to go downstairs to wait in the living room, where Jack, my older stepbrother, is watching the game. Although he's only two years older than I am, ever since our parents moved in together about ten years ago, he'd taken on the role of big brother from day one. He had always been there for me, when I'd had nobody else. I don't know how I would have made it through High School without him.
"Looking good Carrie, what's the occasion?" Jack looks up from the TV and mutes the sound.
"I've got a date," I say. It's actually really weird to admit, making my heart jump out of my chest just a little bit, and my cheeks turn warm.
"Nice! Who's the lucky guy?"
"Daniel. He was in my class."
"Guess with everyone heading off to different colleges next term he felt he was running out of time to make his move, eh?" Jack smiles at me. That same funny twitch inside me jumps again.