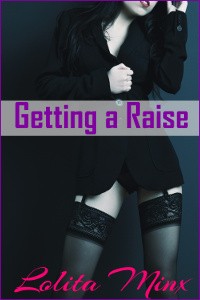 Out Now!
I'd never been very career oriented. Never aspired to be anything other than the receptionist who greeted visitors and answered the phone. But when my man, Gary, and I had decided to buy a house and needed to increase our income, I came up with the ultimate plan to earn a raise at the office.
The three partners of the company where I worked were loaded, and obviously frustrated at home. I decided to try my luck at the month-end meeting, to see if I couldn't do them a few favours, to earn a little raise.
BUY NOW: Amazon | Barnes & Noble | Google Play | Smashwords | Excitica
Keywords: group sex, mfmm, double penetration, office erotica
Sample:
I've never been a career oriented person. It had been three years since I'd been working as a receptionist at the corporate HQ of a large car parts manufacturer. Putting through phone calls, receiving visitors, that kind of thing.
It was easy work, and I enjoyed it. I especially enjoyed getting dressed up before a big meeting, when I knew a lot of visitors would come in. Frazzled looking businessmen, in town just for a day or so, their jetlagged eyes would almost light up when they saw me sitting at the reception desk.
The attention made the job rewarding for me. They enjoyed the eye candy, I enjoyed seeing their reactions.
Things were chugging along just fine at this pace until Gary and I started to make big future plans. We were going to buy a house together. We'd even already found one we had our eyes on, but there was an obstacle in our way. There was no way the bank would lend us enough money, unless we could increase our combined monthly income somehow. Gary's job had no scope for a raise, so any extra money would have to come in from me.
So we hatched a plan…
It was the last Friday of the month, and I'd dressed myself with even more care than usually that day. A very well fitted black suit, with a pencil skirt so tight you could actually see the outline of my stocking tops through the soft fabric if you paid attention.
In all our adventures, Gary and I had one rule that was never to be broken: any time I'm getting involved with other people, he has to know about it and be there, even if he's not participating. So he'd taken a half day off, arriving at the back entrance of the office just towards the end of lunch time. I snuck him inside, into the attached closet of the boardroom, ready for whatever was going to go down later.
Like at every month end, the three partners, Mr. Black, Mr. Murdoch and Mr. Lewis had planned a meeting that was to last all afternoon. They'd go through the figures, analysing what had worked and what needed improving in the business.
The three of them were very hands-on in their business, as most self-made men tend to be. Although the company was successful enough, and had turned the three of them into billionaires, still they worked as hard, if not harder than anyone else at the office.
They also had a weak spot for me, the pretty receptionist twenty years their junior. The not-quite-covert looks in my direction on various occasions had made that very clear, though they'd never acted forward with me, hanging on to the illusion of their broken marriages, possibly out of habit.
So we were all set. Three sexually frustrated middle aged rich guys, one receptionist with great ambition, and a husband in the closet, keeping a video camera at the ready.
"Lolita," Mr. Black's voice came through the intercom.
"Yes, Mr. Black?" I answered.
"We are ready for our monthly meeting. Would you be so kind and hold our phone calls until we're done."
"Sure thing, Mr. Black." I smiled to myself, enjoying the sudden surge of excitement that coursed through my whole body. It was time.