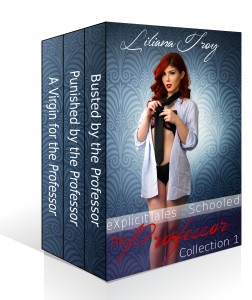 Out Now! 
Three titles in one! Read them separately for free if you have Kindle Unlimited, or save money by buying the boxset!
BUY NOW: Amazon | Barnes & Noble | Google Play | Smashwords | Excitica
Busted by the Professor:
Jared never thought his first semester at college would give him any trouble, least of all Art History. But finding Professor Liliana Troy in front of his class changes everything. If he can only stop staring at her long enough to suppress the growing tension in his nether regions, perhaps he can get out of there without doing anything to endanger his school record, or his relationship with High School Sweetheart Ann. Unfortunately fate, as well as an appendage with a mind of its own has other ideas.
Punished by the Professor:
Tall, dark and handsome Darius has always been the noisy one in class; the trouble maker. If he's not cracking inappropriate jokes, he's staring at prof Troy's rack. Today she's had enough and vows to teach him a thing or two that are not in the curriculum. Unwanted behaviour can only be corrected by consistent instruction and harsh & unwanted consequences, which is exactly what Liliana Troy is planning on dishing out.
A Virgin for the Professor:
When shy geek Matthew approaches Professor Liliana Troy for the first time for some extra study material, she picks up on a more intimate subtext in his words: he's inexperienced in the ways of love. A Virgin. She's always liked the idea of a blank canvas, so she'll teach him about a lot else than the impressionist movement.