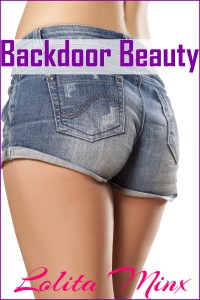 Out Now!
When Gary and I got together, I was far from a virgin, however there was one thing I'd never done before, one thing I had saved up for the right guy. Gary was that guy, keen and eager to go where no man had gone before… in from the back door, and in public, with strangers watching.
BUY NOW: Amazon | Barnes & Noble | Google Play | Smashwords | Excitica
Keywords: sex in public, first time anal, butt sex, hotwife
Sample:
Gary and I had been dating a few months, and things were going very well between us. When he got home from work, he would give me that look, and before I knew it, I was spread against a wall, or bent over a table, with Gary shooting a load in me. I loved the attention.
Sex had always been an important part of my life, ever since that first time when I was still in my teens, but that's another story. This one deals with another first time. The one thing I could give Gary the pleasure of being the first to explore.
I'd done a lot before him, you see, I was insatiable, that's why we got on so well from the start. But I'd always felt that when you're really into someone, you ought to give them a gift of sorts. You have to give up something you've never given up before.
When I realised that Gary was the one, I knew, he'd be the first to fuck me in the ass. That was the one special thing I could offer him. Of course I knew he would gladly accept my gift.
When I first brought it up, I could tell from the look in his eye that he was interested. Not only that, he was chomping at the bit to get going. But he held back that night, he didn't go all the way.
"If we're going to do this, we're going to do this right," he said. "You'll let me have your virgin ass, and I'll ensure we do it in a way I've never done it before too."
My eyes lit up with the possibilities of what he was suggesting.
"What haven't you done before?" I asked.
"I've never taken a girl in public."
A smile formed on my lips and I was even more certain that we were meant to be.